Kurt Nimmo
Infowars.com
May 1, 2014
http://www.infowars.com/van-rompuy-unelected-eu-will-control-europe-and-flank-russia/
EU apparatchiks and U.S. may start war despite widespread opposition
President of the European Council, Herman Van Rompuy, said that even if there is little public support for expanding the globalist union to the border of Russia, "we do it anyway."
The unelected president of the European Council, Herman Van Rompuy, says the globalist union will eventually control every country on Russia's western border.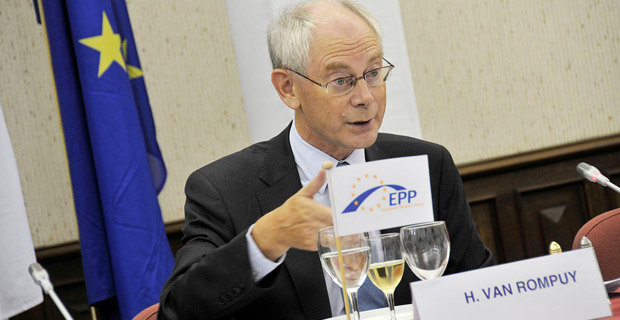 Von Rompuy's dream, according to a Breitbart story citing the Flemish daily De Standaard, is to have all of the former Soviet states in the Balkans and "the whole of European territory outside Russia" linked to the European Union.
Reflecting the true character of an appointed high level globalist apparatchik, Van Rompuy said that even if there is little public support for such an effort, "we do it anyway."
The remarks arrive as the EU and the United States impose a new round of economic sanctions on Russia as the political crisis in Ukraine unfolds.
On Wednesday, The New York Times praised the declaration of economic warfare against the Russian people and lauded the country's "slide to recession" after Ukraine rejected the "accession treaty offered by the European Union that touched off the current crisis."
The description offered by the Times ignores the role played by the State Department in touching off the crisis and stage managing the installation of a coup regime including a number of ultra-nationalists and fascists violently opposed to Ukraine's historical relationship with Russia and its people.
Moreover, the Times, echoing the stance of Van Rompuy and the EU globalists, admits the situation will undoubtedly, in the words of the German Foreign Minister Frank-Walter Steinmeier, facilitate "the worst crisis since the end of the Cold War."
"That crisis will only get worse unless the West is prepared to unite behind serious economic sanctions that hurt Russia's financial, energy and military sectors," and, left unsaid by the editorial board of The New York Times, the Russian people.
Predictably, and faithfully, the Times mirrors the consensus of the financial and global elite. As Ron Paul noted in March, the American people are overwhelmingly opposed to United States involvement in the Ukraine crisis. Of course, this is of little concern to the ruling elite and its propaganda media.
Disregarding popular consensus, the United States will forge ahead with the European Union and continue instigating a wider conflict in Ukraine and along Russia's western border.
Herman Van Rompuy and the leadership of the United States, including many members of Congress, are in agreement. The difference is Van Rompuy, as an unelected EU bureaucrat, will not face the wrath of Europeans, many whom, like their American counterparts, oppose and fear an escalation of the conflict and a possible war with Russia.
This article was posted: Thursday, May 1, 2014 at 12:18 pm