RIA Novosti
October 23, 2013
Source: http://en.ria.ru/military_news/20131023/184312350/Russian-Missile-Forces-to-Field-All-New-Arsenal-by-2021-.html
Russia's Strategic Missile Forces (RVSN) will be fully equipped with fifth-generation missile systems by 2021, a Defense Ministry spokesman said Wednesday.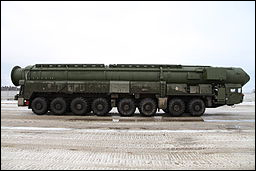 The proportion of modern missiles in the RVSN will reach around 60 percent by 2016 and 98 percent by 2021, Col. Igor Yegorov said.
In addition to the fifth-generation Yars and Topol-M missiles, new command and control centers are being built and new communications, security and other systems put in place, he said.
Russia's missile forces are being modernized in a bid to enable them to penetrate the anti-missile defense systems being fielded by NATO and the United States, Russian officials have said previously.
This article was posted: Wednesday, October 23, 2013 at 10:52 am