By: Kurt Nimmo
Infowars.com
April 23, 2013
Source: http://www.infowars.com/chuck-hagel-green-lights-israeli-attacks-on-syria-and-iran/
On Tuesday, Secretary of Defense Chuck Hagel did penance for his perceived sins against Israel. The former senator from Nebraska was criticized during his confirmation process by the likes of John McCain for not joining the march to war against Iran. Hagel's opposition to sanctions against Iran were considered antisemitic.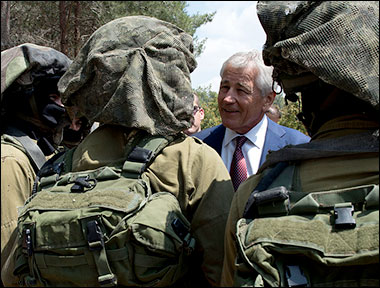 Chuck Hagel talks with Israeli soldiers, April 23, 2013. Photo: Secretary of Defense.
South Carolina Senator Lindsay Graham went so far as to say that Hagel "would be the most antagonistic Secretary of Defense towards the state of Israel in our nation's history."
All doubt was put to rest on Tuesday when Hagel met with Israeli Prime Minister Benjamin Netanyahu in Tel Aviv. Hagel green lighted an attack on Iran, dispersing any remaining doubt about his past. The Wall Street Journal described Hagel's transformation as a "recasting" and said he "expanded a U.S. charm offensive aimed at Israel while advancing an Israeli objective – trying to convince Iran that it faces a realistic military threat as it continues to rebuff Western diplomatic efforts."
During a news conference delivered from Israel's military headquarters, Hagel stressed that Israel and the United States are in "complete" agreement on Iran policy. He reiterated that Israel, as a sovereign state, has a right to attack Iran for its as of yet unsubstantiated nuclear weapons program.
He said there's no "daylight" or "gap" between the United States and Israel when it comes to taking out Iran's nuclear reactors (and, although unstated, its military and civilian infrastructure). In order to accomplish this, Hagel said the United States has agreed to sell Israel more military hardware, including V-22 Osprey transport aircraft and air refueling tankers that will be used in the coming attack. Hagel insisted the arms deal is meant to send a message to Iran.
Sending advanced refueling tanker planes, crucial for an attack, is something not even the neocon administration of George W. Bush was willing to do.
Oddly, U.S. officials believe affirming Israel's desire take out Iran and selling it more sophisticated military technology will make an attack less likely.
In addition to backing Israel's "sovereign" right to attack Iran, Hagel demonstrated the Obama administration's support for Israeli attacks inside Syria. Hagel and Israeli Defense Minister Moshe Ya'alon flew within five kilometers of the Syrian border and approximately 30 miles from Damascus in an Israeli Army UH-60 Black Hawk helicopter.
On Monday, the French newspaper Le Figaro reported that Jordan has decided to allow Israel to use its airspace to stage raids inside Syria. The newspaper noted two routes that will be opened to Israel – a southern route from the Negev and a route through Amman. The agreement will allow Israel to avoid flying over southern Lebanon.
In January, Israel bombed a Syrian military research center in Jamraya. "We don't think [Syria] should be allowed to bring advanced weapons systems into Lebanon," Israeli defense minister Ehud Barak told international diplomats in Germany after the attack. He said the attack, which killed five people, was "proof that when we say something we mean it."
Related Articles