Infowars.com
January 26, 2013
Source: http://www.infowars.com/anonymous-hacks-us-sentencing-website-in-retaliation-for-aaron-swartz-death/
Hacked data could reveal government secrets, including the identities of informants and targets of surveillance.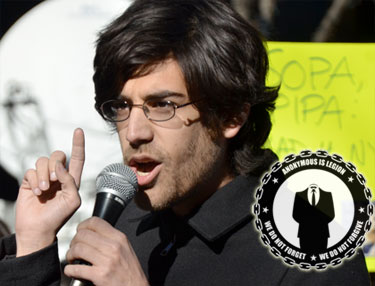 The hacker collective 'Anonymous' took down a government website for the U.S. Sentencing Commission, USSC.gov, late Friday night, citing that a 'line was crossed' with the death of Reddit founder and prominent SOPA opponent Aaron Swartz.
ZD Net covers the details of the site attack:
By 3am PST ussc.gov was down (it has since been dropped from the DNS), yet as of this writing the IP address (66.153.19.162) still returns the defaced site's contents.

It appears that via the U.S. government website, Anonymous had distributed encrypted government files and left a statement on the website that de-encryption keys would be publicly released (thus releasing the as-yet unkonwn information held on the stolen files) if the U.S. government did not comply with Anonymous' ultimatum demands for legal reform.
Dubbed "Operation Last Resort," Anonymous targeted the sentencing entity to draw attention to the harsh "justice" dealt to Swartz by the feds for systematically downloading academic papers. Friends and family blame prosecutors for 'bullying' Swartz and driving him to suicide, while others question whether the activist was silenced.
A message posted on the hacked website read, in part, "We have seen the erosion of due process, the dilution of constitutional rights, the usurpation of the rightful authority of courts by the "discretion" or prosecutors… We have seen how the law is wielded less and less to uphold justice, and more and more to exercise control, authority and power in the interests of oppression or personal gain."
The hacked files taken from the site may yield significant data. CBS News reports, "The hackers say they've infiltrated several government computer systems and copied secret information that they now threaten to make public." The files are reportedly available for download and being circulated, with an encryption key, to fellow hackers.
Warhead – U S – D O J – L E A – 2013 . A E E 256 is primed and armed. It has been quietly distributed to numerous mirrors over the last few days and is available for download from this website now. We encourage all Anonymous to syndicate this file as widely as possible.
The group hinted at releasing relevant documents from the huge cache to the media, which they say contain 'secrets' and which, by its nature, may well contain information such as identities of government informants and provocateurs or targets of surveillance and monitoring.
This is potentially a big deal!